Mental Capacity – The Key Facts
PLEASE NOTE: THIS ARTICLE IS OVER 1 MONTH OLD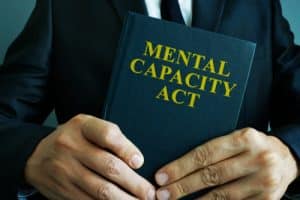 The Mental Capacity Act 2005 sets out the rules for making financial and welfare decisions on behalf of people who lack mental capacity.
There is detailed guidance on how the Act is intended to operate in the Code of Practice, which is very easy to read and full of examples of how to apply the rules in practice.
You can view the detailed Guidance by clicking here.
What is the test for capacity?
The definition of lack of capacity in the Act is:
an impairment of the mind or brain, whether as a result of a condition, illness, accident or some other cause
which affects the person's ability to make a specific decision with the result that
the person is unable to understand the information relevant to the decision and / or
unable to retain this information and / or
unable to use or weigh that information as part of the process of making the decision and/or
unable to communicate their decision.
Impairment of the mind can include mental illness, dementia, significant learning disability, brain injury, physical or mental conditions that cause confusion, drowsiness or loss of consciousness, delirium, concussion and symptoms of alcohol or drug use.
Lack of capacity can be fluctuating or permanent.
Guiding principles
There are 5 legal requirements set out in the Act, which are important principles to bear in mind:
You must presume that a person has capacity unless proved otherwise;
You must give the person as much support as they need to help them make their own decisions;
A person is not to be treated as lacking capacity because he makes unwise decisions;
Any decision made for a person who lacks capacity must be made in their best interests;
When making decisions for someone who lacks capacity, you should always choose the least restrictive option.
When assessing capacity, you must look at the particular decision being made. A person may have capacity to manage their benefits each week, but lack capacity to manage a larger sum of money.
Choosing the least restrictive option means that you must ensure that:
you do not make decisions for the person that they could make themselves.
you must keep the issue of capacity under review and give decision making powers back if the person regains capacity.
How can Andrew Isaacs Law help?
Here at Andrew Isaacs Law, we have an experienced Court of Protection team who are experts in all the legal issues arising as a result of mental capacity.  Contact our dedicated team today on 01302 349 480.
Dated 01.03.2023