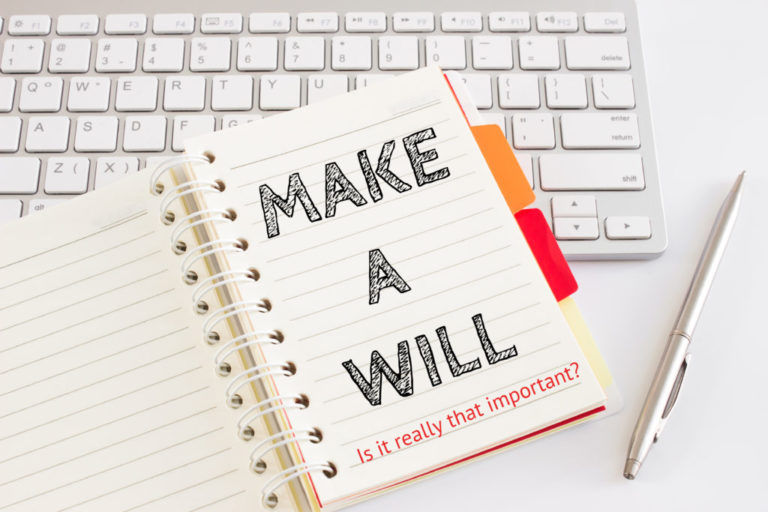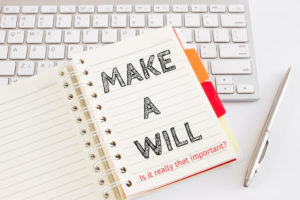 A Will can help to protect your loved ones after you die and ensure that your assets are dealt with in a way that you choose, rather than how the law states.  Here we detail why it is important to make a Will, no matter what your circumstances, and the top reasons for making a Will.
What exactly is a Will and why is it so important?
A Will is a legal document that sets out what should happen after you die.  Unfortunately, death is a part of life, and it helps your loved ones if you have prepared your wishes, to avoid any unnecessary questions, dilemmas or arguments for your family and friends.
It is important to make a Will even if you feel you do not have much money.  It is estimated as many as 60% of people do not have valid Wills and this may cause difficulty upon their death.
The Top reasons for making a Will are:
To control your Estate – You have worked hard for what you have, so why should you then leave it to arbitrary legal rules to decide who benefits from your hard work?  The Intestacy rules dictate where your estate is to pass when you do not have a valid Will.  These rules often lead to loved ones losing out, especially if you are unmarried.  It could also lead to you benefitting the Crown rather than your loved ones, through the Bona Vacantia office.
Children's Guardian – You may think that you do not have much financially, but many people have children who are the most important possessions of all.  In a Will, you can decide who is to look after your children if they are under 18 years of age.  If you don't, then the decision can be left to the family courts, and they may decide on someone you do not agree with.  Your children could even end up in foster care whilst the issue is decided through the Courts. You may have christened your children and appointed Godparents, but this is not a legally binding instruction that your children are to reside with them.  A Will can make a legally binding appointment of a guardian if no one has parental responsibility for your children.
Providing for your Dependents – A Will allows you to decide how you want to provide for your children and other dependents financially.  You may want to set up a Trust fund so that your children receive an income for their education and maintenance and for someone to govern that money until they reach a more mature, sensible age.  The Will allows you to decide who you think is suitable to protect the money until they are of an age you choose, for example, 21 years or 25 years of age.
Without a Will, the money will be due to your children at 18 years of age, and they may not have the maturity to protect the money from frivolous spending or outside factors such as "friends", "partners" or "unsuitable family members".  Also, whilst under 18 the money will be governed by their parent or guardian.  This may be your ex-spouse or partner, who you deem irresponsible, and they may use the money on themselves and their lifestyle rather than the children.  Although a child could bring a Court action once they are 18 against their parent who has spent their money, would you want your child to go through this with their own parent/guardian?
Are you unmarried? – A Will allows you to protect your unmarried partner.  Many couples are choosing to not marry or enter civil partnerships and remain unmarried.  Many people refer to their living situation as "Common Law" spouses, however, this is not a legally recognised union and so does not afford the protection that a marriage or civil partnership attracts.  To safeguard your partner to ensure that they keep a roof over their head, you need a Will.
Without a Will, intestacy rules apply and they state that your assets are to go to your nearest blood relative, not your partner.  This means that your partner could find themselves homeless or have to sell your property to pay your blood relatives their inheritance from you.
Family Disputes – Unfortunately, death and money attract all kinds of family disputes.  Even with the closest of families, death and the sniff of money can lead to a breakdown in family relationships, especially if the person who died was "the glue that kept the family together".  We have seen families argue over plastic jewellery and fridge magnets of no actual monetary value.  You may think that you do not have anything of value, but it is amazing what a person will argue about and hold on to.  To stop this, having a Will makes it clear to all what your intentions are and to head off any family disputes.
The Family Home – A Will can ensure that the family home goes to the people that you want to benefit.  If you are unmarried, it makes sure your partner can remain in the family home.
If you have adult children living at home, a Will ensures that your adult children can remain living in the house for a set period after your death, to try to get a deposit together to buy their own home or buy your home from their siblings or it can even let them live in the house for the rest of their lives, before passing to grandchildren.
A Will can also offer protection from care fees, by ensuring that on your passing your half of the property passes to your children rather than your spouse to be used to fund their future care fees.
Without a Will, the house would be sold, and the proceeds would be distributed to the beneficiaries the law dictates to inherit.
Inheritance Tax – Inheritance Tax is a tax that a financial advisor will often deem as a "voluntary tax".  There are many ways you can avoid or mitigate inheritance tax and a Will is part of this.  A Will drafted in accordance with advice from a financial advisor can often save you inheritance tax, as the Will can incorporate provisions to make use of all the allowances that are open to you and your estate.  It is not automatic that these allowances are applied to an estate.
Newly married? – If you are newly married you may not be aware that if you did have a Will prior to the marriage, it could be invalid.  Unless a Will is "made in contemplation" of marriage it will be revoked automatically on you saying "I do".  This means that your estate could pass to your new spouse and their family rather than your own.
You need to ensure that you revisit your Will or make a new Will upon marriage to ensure that your assets pass to where you want them to.
No Children? – If you do not have children, you may think you do not need a Will, but you do!  Under intestacy rules, they look for your next nearest blood relative to inherit which could be someone you have never met or someone you disliked.  If heir hunters do not find anyone then your estate will sit with the bona vacantia office and ultimately pass to the crown.
Instead making a Will allows you to decide what happens to your estate, you may want to pass your estate to an in-law or friend or even a charity.
Case Study:  There was an estate where an elderly Aunt died.  Nephew by marriage had cared for his aunt all his life and been very close to her, he was by all intents and purposes her nephew.  They had a very close relationship.  Unfortunately, Aunt did not make a Will, she falsely believed that he would get everything being her only living relation and visitor.  Intestacy rules stated otherwise – he was a nephew by marriage, which meant he was no blood relation. Instead, heir hunters located 40 distant blood cousins who were to inherit.
Executors/Trustees – A Will allows you to decide who is to administer and look after your estate.  You may have someone who is not family, who is better suited to look after things for you such as a friend or professional.  You may know that your family would argue or that they could not cope with such a task.  By having this control, it allows the estate to be dealt with more smoothly for your loved ones.
Without a Will, it may be left to an unsuitable person to deal with your estate.
For example, you may be divorced with two minor children (under 18).  Intestacy states that the estate would pass to your children equally.  Your children are not of legal age to deal with the estate.  You would prefer for your parents to look after the estate and the money for your children, but without a Will, intestacy states that your ex-spouse being their parent is to manage it.  You may have separated from your spouse due to their inability to manage money – you know that they are unsuitable, but without a Will, you have caused an issue for your children, which your parents cannot help with!
Pets – One item that many may overlook, is what happens to your pets?  Pets unfortunately, although we deem them as being part of our family, in law are "possessions".
You may share a pet with an unmarried partner and think that the pet will remain with them after you die.  As stated earlier, this is not always the case.  Intestacy states all your assets, including your pet, are to pass to your nearest blood relatives.  Therefore, technically your nearest blood relatives could take the pet from your partner.
The other side of pets is that you could decide to leave a legacy with your pet. Some people have chosen to leave large sums to their pets for them to be looked after.  It is more common for people with a Will to leave their pet to someone who will look after them with a modest amount to compensate for their food and medical bills.
Making a provision for a pet ensures that they can remain with someone who will care for them rather than being placed in an animal shelter and stops any arguments if numerous people covet your pet.
Charity – It may be that you do not have any family to benefit from your estate, or you may not want your family and friends to inherit.  Instead, you could decide to leave your estate to charity.
Those who do not have any known family, sometimes decide to not make a Will, not realising that they have remote family that they do not know about.  Heir hunters locate remote family members, and the estate passes to people they never knew.  At worst, the estate passes to the Crown.  Instead of this happening, making a Will allows you to benefit charities that may be close to your heart and benefit those in need.
If you are thinking of making a Will and need advice with regards to making a Will, then contact us to arrange a consultation.
Article dated:  09.11.2023